Midas MC44005A6W-BNMLW-V2 A Alphanumeric LCD Display, Blue on White, 4 Rows by 40 Characters, Transmissive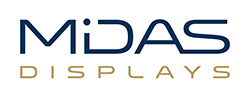 RS庫存編號:

135-9758

製造零件編號:

MC44005A6W-BNMLW-V2

製造商:
查看所有LCD Monochrome Displays
---
RS庫存編號:

135-9758

製造零件編號:

MC44005A6W-BNMLW-V2

製造商:
法例與合規
COO (Country of Origin):

CN
---
產品詳細資訊
Midas Character COB LCD Displays
This series of character LCD displays, from Midas Displays, have chip-on-board (COB) mechanical construction. The LCD displays are available in 16, 20 and 40 character options with super twisted nematic (STN) or film compensated super twisted nematic (FSTN) technologies. Alternative appearances are created with positive and negative modes available in the COB LCD displays. The majority of character LCD controllers come with conventional interface equivalent to HD44780 and include standard on board character sets. In order to meet the demands of customer applications the COB LCD displays are available with a viewing angle of 6 o'clock.

Chip-on-board (COB) LCD display
Parallel interface
Operational temperature -20 to +70 °C
STN and FSTN display options


Midas Alphanumeric Displays
---
規格
| Attribute | Value |
| --- | --- |
| Display Type | Alphanumeric |
| Character Matrix | 4 Rows by 40 Characters |
| Characters per Row | 40 |
| Character Rows | 4 |
| Character Width | 2.8mm |
| Character Height | 4.9mm |
| Viewing Area Dimensions | 147 x 30mm |
| Viewing Area Width | 147mm |
| Viewing Area Height | 29.5mm |
| Interface Type | 8-bit |
| External Depth | 13mm |
| Illumination Colour | Blue |
| Backlight Type | LED |
| Background Colour | White |
| External Width | 190mm |
| External Height | 54mm |
| External Dimensions | 190 x 13 x 54mm |
| Display Matrix Technology | STN |
| Display Mode | Transmissive |
| Maximum Operating Temperature | +70°C |
| Minimum Operating Temperature | -20°C |
| Voltage Rating | 4.7 → 5.5V |
| Series | A |
| Driver Mounting | COB |
| Current Rating | 2.5mA |
| Operating Temperature Range | -20 → +70°C |