RS庫存編號:

490-1266

製造零件編號:

ET-031-10-13-RS

製造商:
此圖片僅供參考,請參閲產品詳細資訊及規格
查看所有Peltier Modules
---
223 現貨庫存,可於3工作日發貨。
| | |
| --- | --- |
| 單位 | Per unit |
| 1 - 99 | HK$266.72 |
| 100 - 249 | HK$256.04 |
| 250 - 499 | HK$245.38 |
| 500 + | HK$240.05 |
RS庫存編號:

490-1266

製造零件編號:

ET-031-10-13-RS

製造商:
法例與合規
COO (Country of Origin):

CN
---
產品詳細資訊
Thermoelectric Cooler Modules, Adaptive
The Thermoelectric modules utilise the Peltier phenomenon principle to pump heat when voltage is applied.
Effective cooling power from mW to a hundred of Watts
Max hot side temperature Th = 90°C for best long term performance
Modules can be bonded using heat sink bonder
Applications in refrigeration and power generation
Silicone sealed options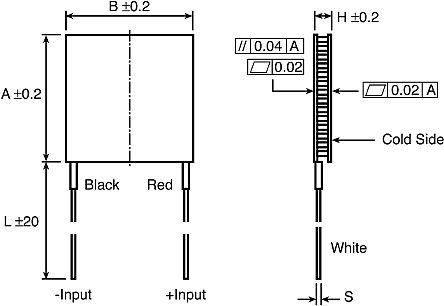 Thermoelectric Modules - Peltier Effect


A range of semiconductor thermoelectric devices working on the Peltier effect. When supplied with a suitable electric current, they can either cool or heat. When subject to an externally applied temperature gradient these devices will generate a small amount of electrical power.The larger devices can be used for cooling or controlling the temperature of sub-assemblies. The small size of the mini module makes it ideally suited for cooling miniature electronic components such as infra-red detector chips, microwave IC's, fibre-optic lasers and detectors.,Alternatively, it may be used to minimise the effects of temperature coefficients on oscillator stability, reference voltages, amplifier offsets etc. by providing temperature control.


Solid-state long term stability
Generates no acoustic noise
---
規格
| Attribute | Value |
| --- | --- |
| Maximum Cooling Capacity | 8.6W |
| Maximum Temperature Difference | +74K |
| Maximum Current | 3.9A |
| Maximum Voltage | 3.8V |
| Active Area | 15 x 15mm |
| Active Area Length | 15mm |
| Active Area Thickness | 3.6mm |
| Active Area Width | 15mm |